Nearly half of all diamonds sold today are square shaped. As you see below most rough diamonds are more square than round. We do not waste money on less valuable shapes. Cutting square diamonds means less waste. Thus you do not pay extra for waste as with other shape diamonds.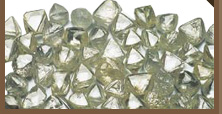 If you think you have found a better value elsewhere please contact us by email or phone before purchasing. We will help explain the intricacies of reading a grading report and will be the first to tell you if you have a good value.

If you have seen a diamond on any other online sites odds are we can sell you exact diamond for 5% less.
Unlike squarediamonds.com, most online diamond dealers do not own their inventory but merely share a database which we also have full access to.